One block of Vancouver's West 4th Ave. has quickly transformed into a hub for outdoor clothing and accessories stores.
While the main shopping stretch of West 4th Ave. has long been known as a go-to area to shop for outdoor apparel, that status is strengthened by two new store openings in the block between Yew and Vine streets.
Following the opening of their first permanent store in Germany, Adidas opened Terrex at 2235 W 4th Ave. on Dec. 24.
That followed competitor Arc'Teryx opening a 4,504-square-foot store six doors east of Terrex, at 2201 West 4th Ave. – a store that includes a large service centre where customers can bring Arc'Teryx products to be repaired. The new Arc'Teryx store replaces a much smaller location at 2033 West 4th Ave., which the company recently closed.
Adidas Canada's vice-president of retail, Lesley Hawkins told BIV that Adidas in late 2021 decided to locate its store where it has, and at that time executives did not know that Arc'Teryx would move nearby. Adidas also kept Terrex's exact location secret until recently.

While the Terrex and Arc'Teryx store banners sound similar, and the names could be confusing, Hawkins said she is not concerned about any lawsuits or court actions aimed at halting Adidas from using the Terrex name.
"The Terrex brand has been around since the '80s," she said. "I understand that there is some similarity in the names, but Terrex has existed for a long time."
Climbing products, for example, long ago launched under the Terrex brand, she said.
What is new is stand-alone Terrex-branded stores.
The first such store opened in Munich, Germany in November 2021. Adidas then took its time to see how well the store performed. It then opened what Hawkins called a "pop-up store" in Portland, Oregon in November and that location is set to close in May.
"We do research on real estate, and markets, and we look at what the neighbourhood is like, and what what the consumer is doing and how active they are in that particular area," she said. "In Kitsilano, people are very active, and very outdoors focused so it made sense for us to be here, and to be on West 4th Ave. was very important."
She would not say how many Terrex stores are likely to open in 2023 but said that she expects at least one more store in Canada to open by the end of the year.
Curiously, Adidas once owned Arc'Teryx. Arc'Teryx launched in 1989 as Rock Solid, and then principal Jeremy Guard rebranded the company as Arc'Teryx Equipment Inc. in 1991.
The company remained an independent North Vancouver-based venture until Adidas-Salomon AG bought the entity for an undisclosed sum in 2001.
Adidas-Salomon AG then sold Arc'Teryx along with other parts of what it considered its French sports unit to Finland-based Amer Sports for 485 million euros in 2005.
Kitsilano resident, Lululemon Athletica Inc. (Nasdaq:LULU) founder and billionaire Chip Wilson told BIV in November that he owns 20 per cent of the privately held Amer Sports. He was not available to comment on the burgeoning competition among outdoor apparel and equipment sellers on West 4th Ave. – one block away from the corner of Arbutus and West 4th Ave., where Wilson opened his first Lululemon store in 1998.
Hawkins listed Patagonia, which has a store at 1994 West 4th Ave, as another brand that Terrex would consider a competitor. Icebreaker, at 2089 West 4th Ave., is also nearby. While MEC could be considered a competitor, Hawkins said the large Vancouver-based outdoor-equipment seller is also a partner in that Terrex wholesales some products for MEC to resell.
To draw attention to what Terrex is calling its "grand opening" this weekend, the company obtained city permission to build a week-long installation in the parking lane of the street outside its store.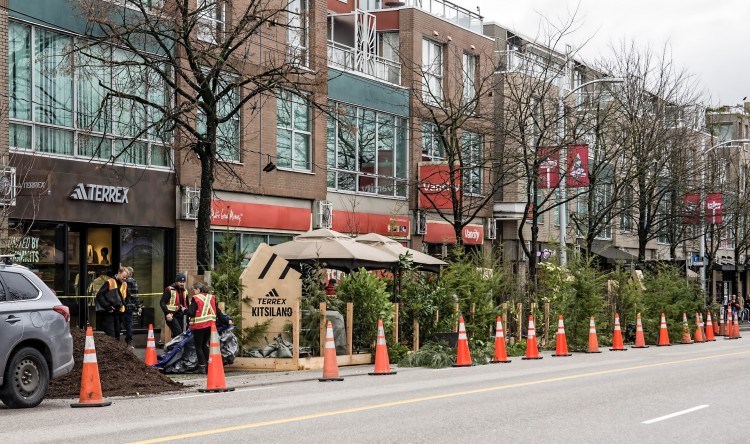 Workers on Wednesday were constructing Terrex's street installation | Chung Chow, BIV
Hawkins calls the construction a hiking trail.
"It has got earth, and rocks and trees," she said. "It's as if you're walking along a trail that you would normally be enjoying out at Grouse or Seymour or one of the other trails in the area, and the trail ends at the front of our store."
Some store staff will be outside, as will some products, she said. Visitors will also be able to scan QR codes on signs and enter draws to win products.
"We have a coffee station with a DJ so there's quite a bit happening outside," she said.