Doug Barry's dedication to emergency coordination and response was recently recognized with a Public Safety Lifeline volunteer award.
Barry, who passed away suddenly on Oct. 31, 2016 after surgery and a long, but valiant battle with cancer, was presented with the award posthumously along with five other provincial volunteers for their exceptional contributions to emergency and disaster response throughout the province as part of National Volunteer Week.
Minister of Public Safety and Solicitor General Mike Farnworth presented the awards at the annual Public Safety Lifeline volunteer ceremony in Victoria.
Barry truly enjoyed amateur radio. He joined the Delta Amateur Radio Society and was an active member for many years, including serving as club president.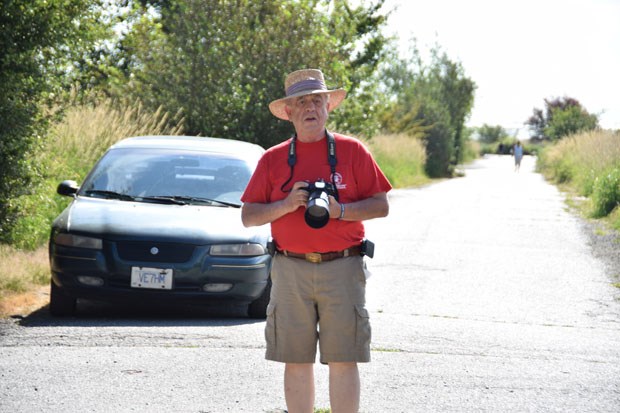 "Doug was one of those guys who got involved in everything," said club member Tom Robson. "He was always interested in what we were doing and participated to its fullest that's for sure. It didn't matter what time of the day it was he was always participating. I remember one time there was an Amber Alert and he got on the radio and started broadcasting to our local group. He didn't have to do that, but he was just a super community guy."
Barry parlayed his talents in air traffic control and his passion for aviation safety and amateur radio into involvement with PEP Air and the Civil Air Search and Rescue Association.
Among the most visible proponents for the development of emergency communications, he was a long-time EMBC Public Safety Lifeline volunteer and dedicated advocate of emergency management in B.C. He was the municipal emergency radio communications coordinator for the City of Delta and played a pivotal role in the development of Delta's emergency radio communications program.
Barry was devoted to his community, and gave generously of his time. He shared his talents with the Delta Police Department at the North Delta community office as a coordinator for North Delta Community Crime Watch, with Operation Red Nose and with the Tsawwassen First Nation for its canoe journeys.
He also used his natural affinity for amateur radio at numerous community events, including Ladner May Days, Delta Triathlon, Tour de Delta and Boundary Bay Airshow.
"Doug was a professional. I can't say enough about his dedication and how he strived to make himself the best in his position," recalled Mayor George Harvie. "Every time I turned around at a major emergency event, Doug was always there and with others of course, but he was obviously the leader. It's people like Doug that make your community strong. From an emergency response and emergency services point of view, he was the best. We really miss him. We thank him and his family for their dedicated service."