The City of Vancouver has passed a motion to oppose the expansion of a major liquid natural gas (LNG) plant on the shores of the Fraser River in a project that would lead to a release of greenhouse gas emissions equivalent to the city's entire yearly output.
The non-binding motion, put forward by Coun. Christine Boyle, claims the Tilbury LNG proposal in Delta would undermine Vancouver's work in addressing the climate emergency.
"I think we need to take a leadership role here and oppose this (greenhouse-gas) emitting, dangerous project," Coun. Jean Swanson told council Wednesday.
The $3-billion Tilbury LNG Phase Two Expansion Project would lead to a 10-fold increase in its capacity to produce LNG.
FortisBC, which runs the Delta facility, says it needs to expand LNG capacity to feed an international market, supply gas to the shipping industry — including BC Ferries — and offer a backup to Metro Vancouver residents during cold snaps in the event of a gas line disruption as seen in 2019.
Detractors, meanwhile, say boosting Tilbury's capacity threatens to throw more greenhouse gas emissions into the atmosphere, and poses a number of direct risks to human health, such as the potential for a catastrophic fire in a densely populated urban area.
UPSTREAM EMISSIONS
The approval of new oil and gas projects has faced heightened scrutiny in recent months. In a landmark study released earlier this year, the often industry-friendly International Energy Agency traced a narrow path to reaching net-zero global emissions by 2050.
If the world has a hope of keeping global temperature rise below 1.5 C from pre-industrial levels — the threshold where scientists say irreversible damage will be done to the Earth's climate system — the report says no new fossil fuel exploration or facilities should be approved.
For Tilbury, much of the natural gas supplying the expanded terminal would come from hydraulic fracking operations in northeastern B.C.
LNG is essentially super-cooled liquified methane. When that methane leaks into the atmosphere — during production, transportation or storage — it produces a warming effect roughly 86 times more powerful than carbon dioxide.
That means that if the Tilbury expansion were to go forward, it would lead to between 1.98 and 2.67 megatonnes of greenhouse gas emissions per year, claims Boyle's motion. That's roughly equivalent to the 2.5 megatonnes of annual emissions produced by the entire City of Vancouver.
'THE WRONG PLACE'
Opposition to the project comes as other districts across Canada reassess the role of natural gas. In July, the Quebec government rejected a $14-billion LNG project that would have piped western LNG to the east coast.
The cities of Richmond and Port Moody voted to oppose the Tilbury expansion project in 2020, while Delta has yet to take a position on it.
LNG critic Eoin Finn, meanwhile, warned Vancouver council Wednesday that the expanded gas facility sits directly opposite a Richmond jet-fuel terminal and risks sparking a regional conflagration.
He pointed to maps produced with data from the Society of International Gas Tanker and Terminal Operators (SIGTTO) to show the catastrophic damage such a fire could cause.
SIGTTO, noted Finn, cautions against building LNG terminals in narrow inland waterways near large population centres.
"Basically, they shouldn't be located where this plant is being proposed in the Fraser River," said Coun. Swanson.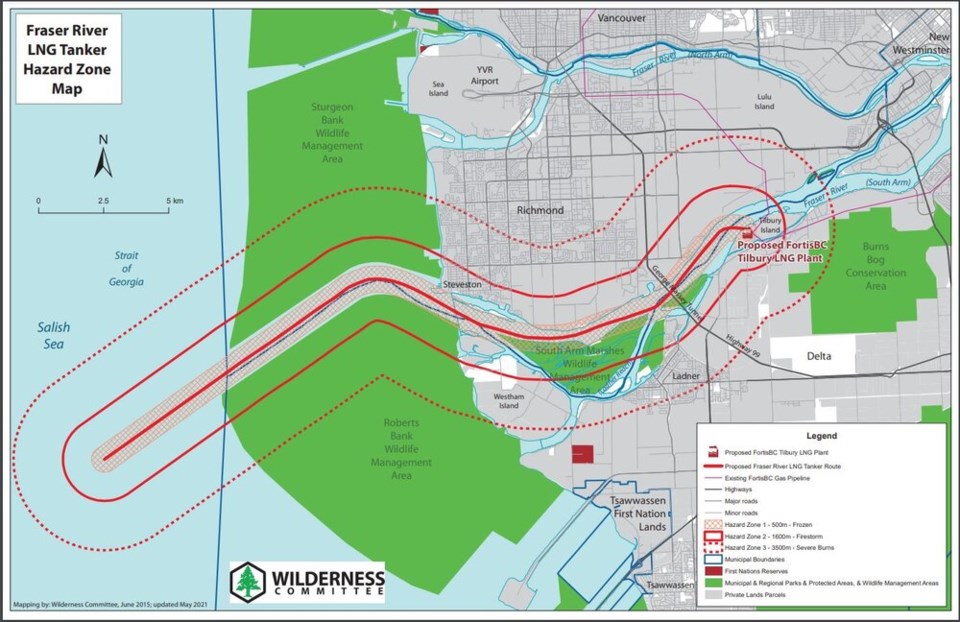 Within 500 metres, a catastrophic leak could blanket nearby communities such as Steveston in a freeze zone. If the gas were ignited, it could create a firestorm stretching 1,600 metres from a ship; at 3,500 metres, people would still suffer severe burns.
"This is just the wrong place," Finn told council.
Other speakers pointed to a massive 2014 explosion at an LNG facility in Plymouth, Washington, as an example of what can go wrong.
"The smallest of human error could trigger an event unlike anything we've seen before," said resident Peter van der Velden, raising the spectre of an explosion on the scale of that seen in Beirut last year.
TURN DOWN OR DEFER, SAYS FORTISBC
Rick Gibbs of the Delta Chamber of Commerce supported the expansion of the facility. He said the existing facility has had no major leaks since it was built in 1971 and that its benefits, like providing energy to local populations and reducing emissions in shipping, would provide a net benefit to the region.
Doug Slater, FortisBC's vice-president of external and Indigenous relations, told council the motion was "premature and should be either turned down or deferred" because it was full of inaccuracies and failed to outline the project's benefits.
Those benefits include 6,000 full-time construction jobs and 110 full-time operations jobs to keep the plant running.
"The emissions numbers that were quoted were incorrect," he told council.
But when pressed by Coun. Boyle, the FortisBC representative said the numbers submitted for environmental approval only counted direct emissions from the facility and did not include the release of methane from upstream fracking.
Coun. Swanson questioned how FortisBC could continue to claim LNG will play a vital role in de-carbonizing shipping when a World Bank report released this year found it would play a "limited role."
Countries, concluded the World Bank study, should avoid new public policy supports for LNG as a bunker fuel (an extremely crude, high-polluting, marine-grade fuel) and continue to regulate methane emissions in shipping.
"So Fortis disagrees with World Bank?" questioned Coun. Swanson.
Slater said he had not read the report.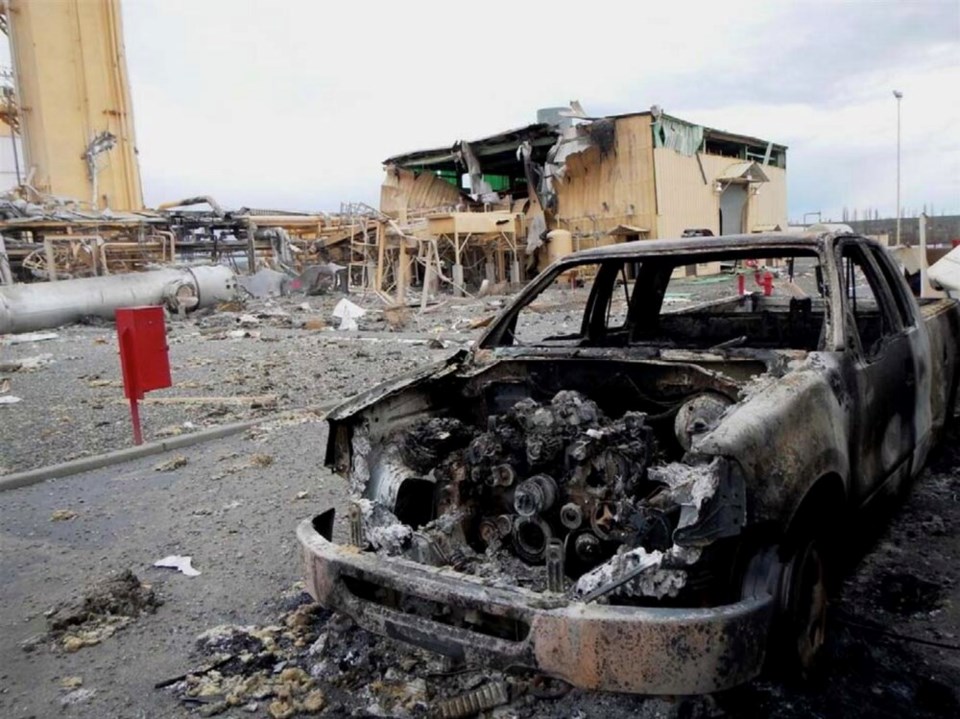 REVIEW CONTINUES
As council heard from a long list of speakers, nearly all opposing the Tilbury expansion, Coun. Melissa DeGenova attempted to strike out the proposed motion in favour of consulting with local First Nations. But a majority on council rejected that attempt, saying it was not an either-or decision.
"There's absolutely no room to expand fossil fuel infrastructure," said Boyle in her final pitch to council. "Twenty or 30 years ago, a case could have been made for natural gas and LNG as a bridge fuel in the transition before us. But the bridge was to now. We've reached the end of that bridge."
Her motion passed five votes to four.
The BC Environmental Assessment Office, together with 13 First Nations and the province's Impact Assessment Agency, are currently reviewing the Tilbury LNG Phase Two Expansion Project.
That process will decide whether the Tilbury expansion should go ahead, and if it does, whether it should undergo an environmental assessment.
In passing the motion, Vancouver City Council will write a letter to the BC Environmental Assessment Office expressing its opposition to the project, and if the project proceeds to a review, it will direct city staff to engage in the assessment process.