By Lisa Hoglund, CFRE Executive Director at Delta Hospital and Community Health Foundation
Tabitha thought she'd beaten cancer. She had already been through a lot and was only in her thirties. She'd undergone a hysterectomy. She'd started a new life, in a new city.
Then one day, on her way to work, she found herself in so much pain that she had to pull over. Sitting alone in her car, she found herself shaking all over. "I was afraid the cancer had come back," she recalls.
Tabitha's story has a happy ending, thanks to the timely care she received. That is why I am asking you to donate to our wish list and help us strengthen women's healthcare at the Delta Hospital Campus of Care.
Tabitha was referred to Dr. Roy Jackson, who reassured her that the pain was caused by scar tissue from her previous surgery and recommended a laparoscopy. She chose to have her surgery at Delta Hospital after hearing that it was one of the best hospitals in the area.
Tabitha was anxious as she had never been to the Delta Hospital campus before. She recalls, "As soon as I walked in, I was greeted by friendly staff who made me feel so comfortable."
Dr. Jackson informed Tabitha that she may need further removal of scar tissue in the future to relieve pain if it returns. With each surgery at the Delta Hospital campus, Tabitha's experience has been exceptional. She felt that the whole interdisciplinary team went over and above to make sure she was taken care of.
Today, Tabitha is 41, married with three stepchildren and a grandbaby. "I am so grateful to the team at Delta. I am cancer free and loving life!"
Tabitha had the peace of mind that comes with receiving the very best healthcare possible in a hospital close to home that she knows and trusts.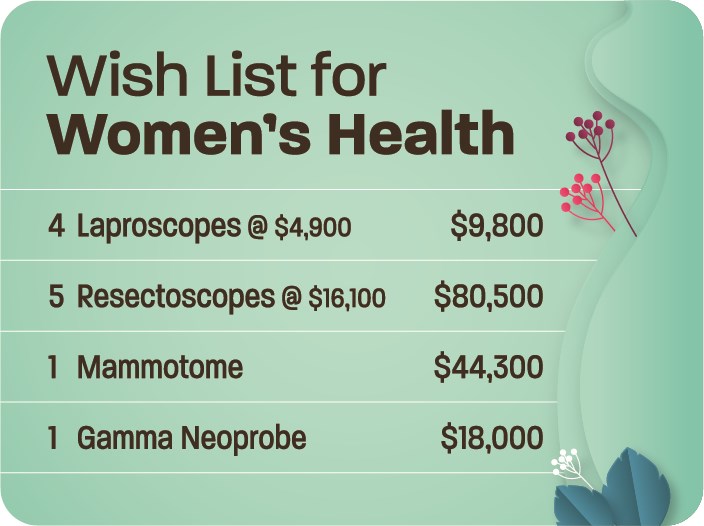 How can you support women's health in your community? By making a gift to help Delta Hospital and Community Health Foundation acquire sophisticated equipment for treatments that benefit women every day, such as resectoscopes to treat uterine bleeding without the need for a hysterectomy, and a mammotome for breast cancer surgery.
"I believe Delta Hospital is at the forefront of providing women's breast and gynecological healthcare," says Tabitha's gynecologist, Dr. Jackson. "Donor support is very much appreciated by the doctors and nurses at the hospital. Most importantly, the ultimate winners are the patients who are able to receive excellent care, thanks to your efforts."
Delta Hospital has the busiest surgical day program in Fraser Health, performing over 200 breast cancer surgeries and over 600 gynecological surgeries in 2022.
By providing our medical teams with the very best equipment, you support healthcare excellence for everyone in our community – including the moms, grandmothers, sisters, daughters, spouses and friends in our lives. Through your generosity, we will expand our resources to meet the needs of our growing community of 100,000 residents.
Thank you for your ongoing support. From the entire team at the Delta Hospital Campus of Care, our very best wishes for a happy Spring.
Preventative care is vital for women of all ages. With Mother's Day near, remind the women in your life (as well as yourself) to be screened for breast cancer and other conditions that affect women.
Make a gift in support of women's health today at dhchfoundation.ca/womenshealth