Forgo those day-long flights and tuck your passport away. Instead, pack your weekender (or weekday) bags and opt for a spring staycation, the season where everything is fresh and new, just like the Delta Hotels by Marriott in Delta. It is the perfect local retreat, and the latest addition to Marriott's exceptional portfolio of 31 hotel brands and over 8,000 hotels worldwide.
Enjoy a "spring fling" in your own backyard and bed down locally at the Delta Hotels by Marriott Vancouver Delta, 6005 Highway 17A, which opened just a few months ago.
"We're really excited to bring this brand-new, full-service hotel to the city of Delta, and service this growing and emerging area," says Jeff Krivoshen, president, South Fraser Hotel LP.
"The property is really something special, not just for its larger hotel rooms, but the higher-quality finishes and furnishings, and all the amenities that will attract people and entice them to want to stay."
You'll be treated to an exceptional resort experience, complete with a high-end spa and wellness centre, 24-hour fitness centre, outdoor pool and hot tub (steaming like a hot spring for year-round enjoyment), and the dynamic Cascades Casino adjacent to the hotel; offering a full-scale conference centre, live entertainment, and various casual dining options, including The Buffet with theme nights, and MATCH Eatery and Public House.
"We're extremely proud to partner with the new Cascades Casino Delta, and to have their Conference Centre and food & beverage offerings as part of the overall development," reveals Krivoshen.
Rooms, spa, stay and play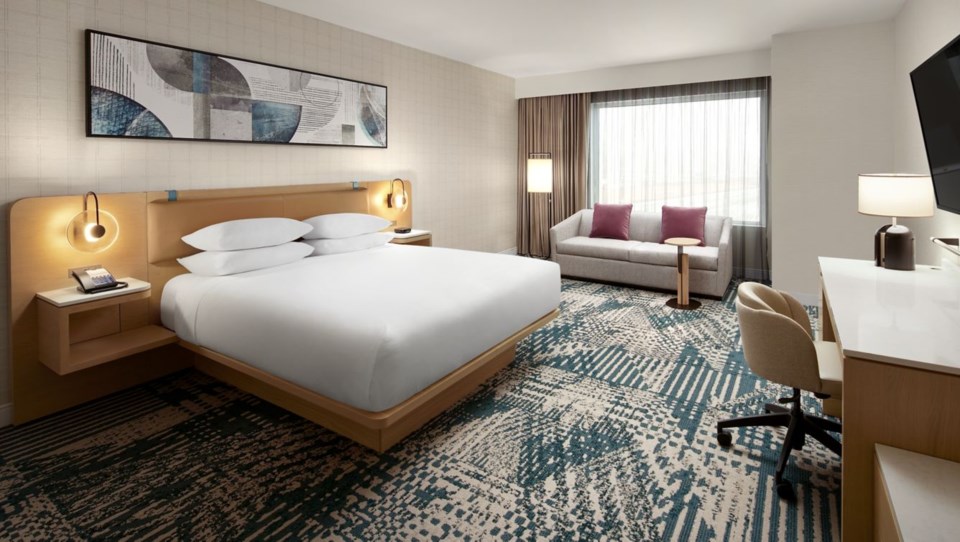 Focusing on an upscale experience, with the attention to detail you've come to expect from a Delta property, this 124-room hotel is perfectly positioned to satisfy your every need. Guest rooms and suites are well-appointed with a modern design aesthetic, outfitted with ultra high-speed wifi, mini fridges, flat-screen TVs, and workspaces. There's premium bedding and towels, and walk-in showers to keep you energized and feeling "fresh", which you'll appreciate, especially if you're on a roll at the casino.
With a nod to their casino connection, hotel rooms are named to pay homage to female characters from the Bond film franchise, such as the conference room after Madeleine (Spectre, 2015), and (No Time To Die, 2021), plus the board room after Camille (Quantum of Solace, 2008).
If you have a special celebration, say an anniversary or bachelorette party, what better gal getaway or couples bonding experience than a retreat to Sévérine Spa, also named after a Bond character (Skyfall, 2012). Krivoshen says, "Sévérine Spa and Wellness in the Delta Hotels by Marriott Delta, is undoubtedly one of the finest spa facilities in all of Vancouver."
Perhaps your organization or business group requires a meeting space, plus dining and entertainment (stay and play), in which case, the Delta Hotels by Marriott Delta is the quintessential one-stop destination. There's also a Grab 'n' Go outlet proudly serving Starbucks, and the Delta Pantry with snacks and beverages exclusive for Marriott Bonvoy Elite members.
Local attractions
The hotel is the ideal location to situate yourself for amazing adventures around town and features free parking. Shop at nearby Tsawwassen Mills, visit the Riverport Richmond Silver City Entertainment Complex, hike Burns Bog, or take in Watermania and the golf courses in the area. The communities of Ladner, Steveston, Tsawwassen, and North Delta are all just a "stone's throw" away.
Gather your group and explore the BC Ale Trail for a tasting tour; sample some craft beers at microbreweries throughout the local communities, easily accessible by bike or car.
For more information or to make a reservation, visit marriott.com