With Delta playing host to a container port and ferry terminal, as well as a thoroughfare to the U.S. border, it's no surprise the city has some of the highest numbers of commercial vehicles on its roads each day.
That's why the Delta Police Department has placed an emphasis on truck and commercial vehicle safety, with a large-scale annual blitz as well as monthly checks and regular daily enforcement to ensure unsafe vehicles are taken off the road.
Const. Ken Usipiuk, a 12-year veteran of the force, including seven years with the traffic unit, has pretty much seen everything at the side of the road.
"The majority of the issues that our officers find are tire defects, braking problems or cargo that is not properly secured," he said.
During the annual enforcement campaign this year, a three-day effort that included other policing agencies as well as the province's Commercial Vehicle Safety and Enforcement [CVSE] branch, 378 vehicles were targeted for full inspections and of those, 160 were pulled off the road.
One of the highlights -- or lowlights depending on your perspective -- was an unsafe trailer that turned out to be stolen. It had stolen plates too.
Drivers were issued 174 violation tickets during the three days, most ranging from $109 to $311. However, a number of drivers were issued $598 tickets for failing to comply with previous orders as they had not fixed their vehicles within an allotted time. These vehicles were taken off the road. Some drivers also received multiple tickets.
Usipiuk said officers see similar situations every day when they conduct enforcement.
"Do we have a problem with the maintenance of vehicles? Yes, certainly," he said. "But there are also many drivers and companies out there who take the time to properly inspect their vehicles, ensure vehicles are new and safe, and follow all the rules.
"I have companies that invite me in to speak to their drivers and we do presentations with the owners standing there. I also meet separately with the drivers and ask them what's working and what's not working. What can I advocate for on their behalf? I get a great list and go back to the owner. It's awesome to have those relationships and it's awesome that these companies put their drivers and safety first."
Two recent incidents along Delta roads, however, highlight the fact that while industry is trying, there's still lots of work to be done.
Traffic unit officers pulled over a truck in the 6400-block of Highway 17 with six flat tires and a cracked rim. The driver was hauling 30 tons of gravel with an inoperative suspension.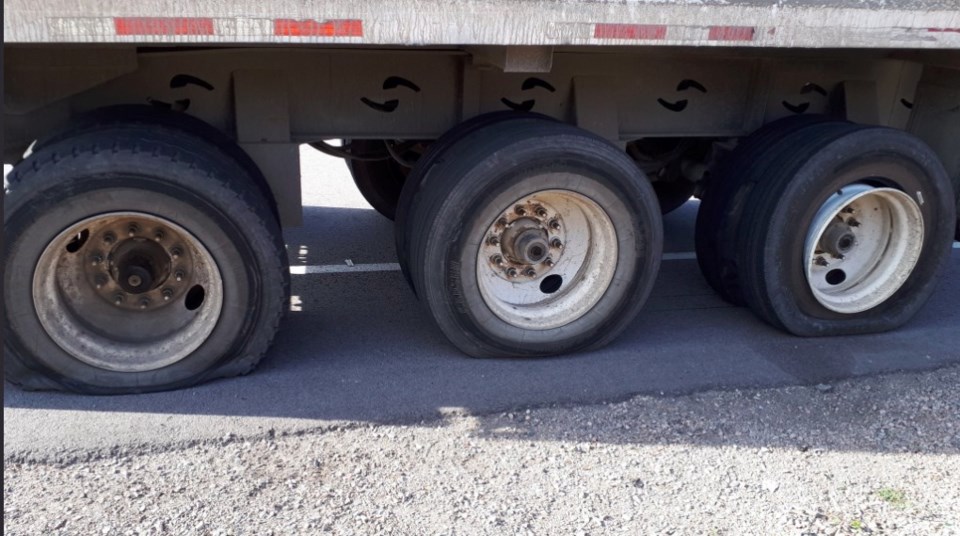 The truck was towed and won't be allowed back on the road until the owner can prove it has been repaired.
Usipiuk said it's a clear example of a driver not performing a proper pre-inspection of the vehicle.
"When I pulled the driver over, he said everything was fine when he left the yard," recalled Usipiuk. "If it was fine then how did all of this damage happen? This truck had airbag suspension. Every airbag was deflated, so that's the suspension. The axel had no cushioning and with 30 tonnes of gravel, it only takes so much before things start to break and once the rims break, the tires blew and finally the driver knew something was wrong.
"This had to have been broken before he hit the highway. This is negligence."
He said it takes 10 to 15 minutes to do a proper pre-trip inspection.
"That would have been found within five seconds because you start the truck up, turn on all the lights and do your walk around and you look at everything," he said.
In another recent incident, the driver of a semi-trailer that jackknifed westbound on Highway 17 didn't have insurance on either the cab or trailer.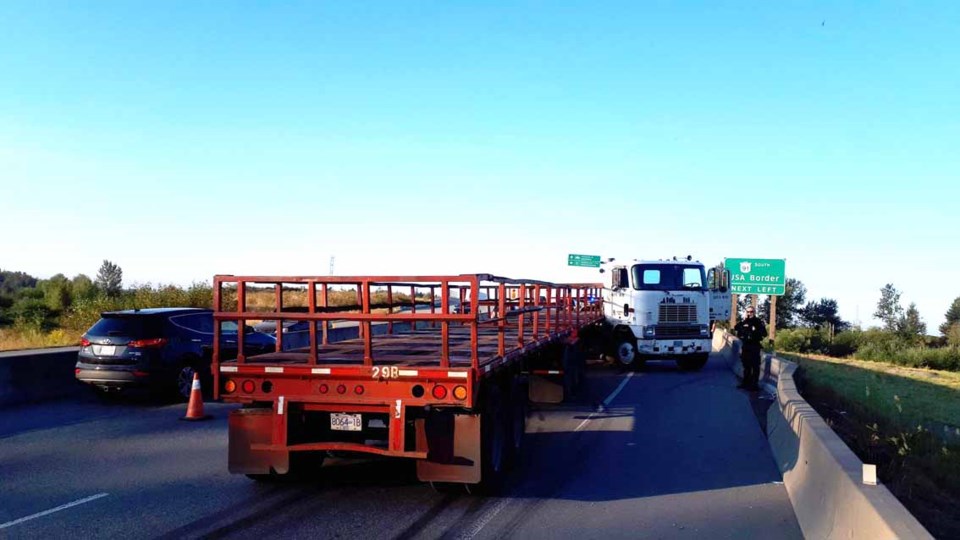 Usipiuk said more than $1,300 in fines were issued and paperwork showed as well that the driver didn't complete a pre-trip check.
"The first thing that should be checked is proper documentation, registration and safety because when I get in that vehicle I'm responsible," he said. "How does that driver not see that both safety certificates were expired and both the cab and trailer had expired registration?
"I've been doing this for far too long and nothing surprises me, but this is just common sense, safety issues that both drivers and owners have to be more diligent and cognizant of. I'd love to see industry do more, reach out more to us for advice."
BC Trucking Association president Dave Earle agrees that more needs to be done.
"The vast majority of drivers do it right, the problem is we still have a cohort that don't," said Earle. "From our perspective, it is no worse than it had been in the past, but that is far from being good enough. I wish we had a way to have a lot more enforcement – both from policing agencies, CVSE -- but until you have an industry and professionals in this industry that treat their equipment the way it needs to be treated, recognize the stature and importance of the work that is being done, we will always have these marginal companies operating and it's incredibly frustrating."
Earle said the BC Trucking Association continues to work with CVSE and the provincial government on improving industry safety.
"We are working to establish a mandatory entry-level training standard in B.C. that will line up with the federal standard. We are doing a ton of work to help the industry do better and raise the floor, but these recent incidents that you have highlighted in Delta is completely unacceptable and needs to end. I can't tell you how frustrating it makes me and our members when we see these things happening."
Earle said regulations need to be tightened and more provincial resources have to be put into enforcement.
"We need to see smart regulations that help companies doing the right thing to do it better and to catch companies doing the wrong thing and shut them down, but that is way easier said than done," he said. "Often we find regulation makes it harder for the good companies to do it right and just makes the difference between those and the bottom group of companies who are doing it wrong… makes it more attractive to cheat.
"So we continue to advocate for government to do more. We need to push government to do more and do things more effectively for our industry."
Surrey-Guildford NDP MLA Garry Begg, speaking on behalf of the provincial Ministry of Transportation, said government is prepared to continue to do more to ensure commercial vehicles operate in a safe fashion.
"For years now we have had cooperation with the CVSE, Delta police, RCMP in your region and part of enforcement is education, ensuring that drivers understand their responsibilities to keep their trucks safe and safely on the road," Begg said.
"Over the course of a year we inspect hundreds of thousands of commercial vehicles when they are stopped at weigh scales, inspection sites across the province as well as these random road stops. Consistent with our desire to make sure the roads are safe, we are going to continue those and increase those in areas where we detect there is a trend or greater instances.
"We are more than prepared to respond with the cooperation of Delta police, RCMP and our other partners. It is a concern, for sure."